Yoga
Who is Yoga designed for?
Anyone and Everyone! Whether you are a first timer or have a lot of experience, our classes will benefit you.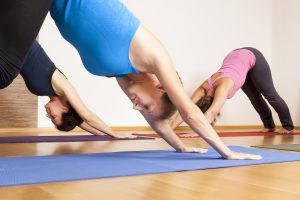 I have limitations, can I do this class?
Research shows that it increases flexibility and strength which can help alleviate certain types of back pain. People with arthritis have also seen great improvement in joint mobility and pain relief.
A regular practice offers a wide variety of mental and physical benefits. Not only will these classes increase flexibility and help you tone your muscles, but you will leave class feeling refreshed and relaxed. Our deep stretching classes focus on proper body alignment and breath control. Research shows that practicing yoga can help reduce body aches, pains and depression.
Benefits
Increased flexibility
Improved Balance
Joint Health
Reduced Stress
Pain Prevention
Muscle Tone
Want more info ? Follow us on Twitter for class updates and the latest club news.