**This post is a part of our beginner's guide to fitness series. To see all blogs in the series click here.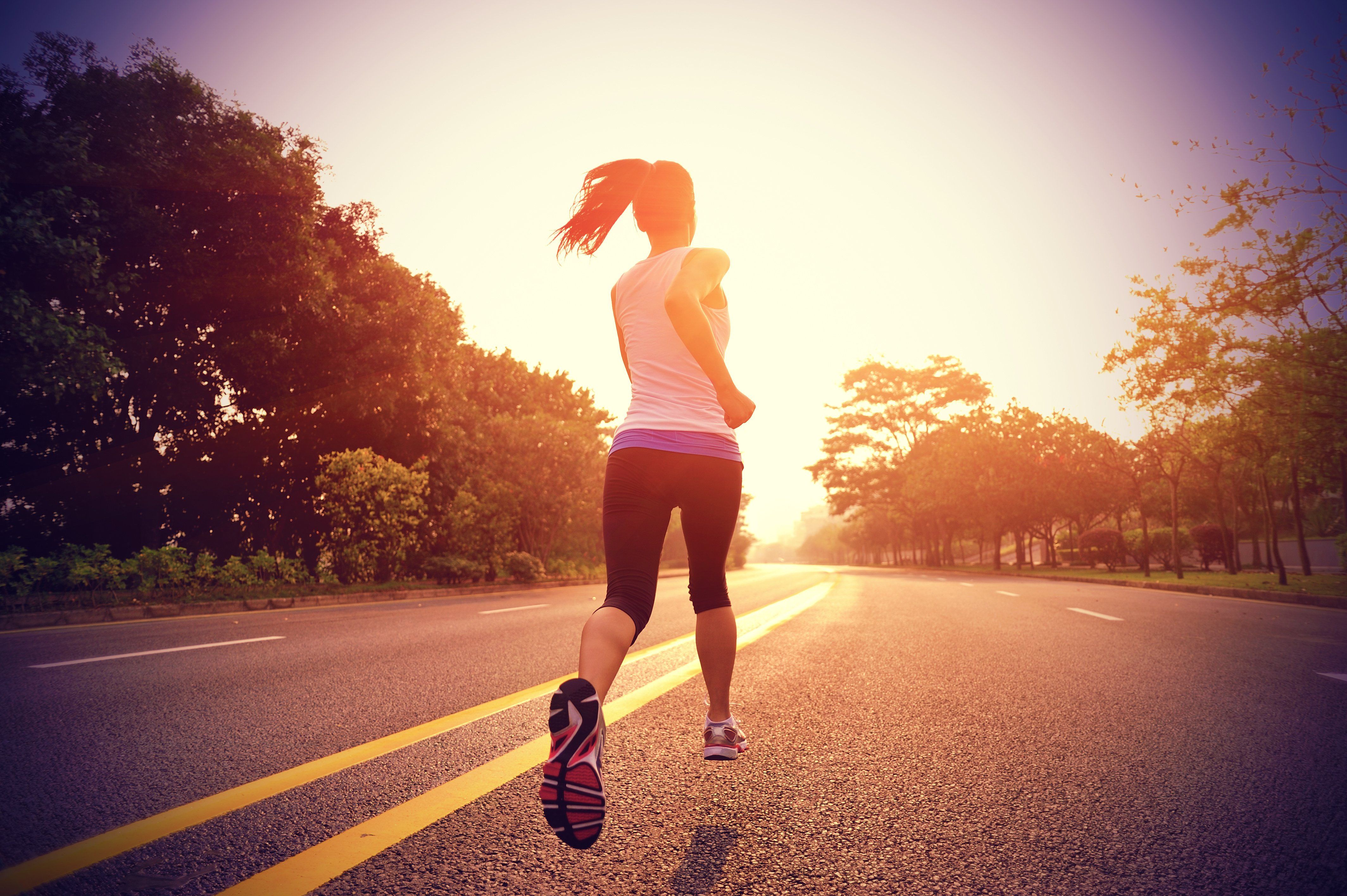 The OneAmerica 500 Festival Mini-Marathon, the half marathon race that occurs in Indianapolis each May as part of the Indy 500 Festival, is a popular first half marathon for new runners. It is a large race, one of the largest half marathons in the country. Each year 30,000+ runners, walkers and wheelchair racers travel the 13.1 mile course through downtown including a lap on the track at the Indianapolis Motor Speedway! Because of the size and the location, this is a really exciting race to make your first. Crowds, music and bands line the streets cheering you on as you run or walk. There are water stops periodically as you go providing ample refreshment throughout the race and medical support available if you should need it (which hopefully you won't!). The post-race party is always great as well. Live music, food and massages in Military Park make for a great spot to reunite with friends and family who also ran, walked or were there to cheer you on.
The in person race was canceled in 2020 due to the pandemic, but the option was given to run it virtually on your own 13.1 mile course. Whatever the 2021 race ends up looking like, you can get motivated and start training for the May 8, 2021 race now! If you need more time, you can plan to run the Monumental Half Marathon. This is another great race in downtown Indianapolis. The Monumental offers a full marathon, a half marathon and a 5k. It is planned for November 6, 2021.
Whether you are a seasoned runner but haven't run a race or if you are a brand new runner, here are some tips to prepare for a half marathon.
Find The Right Shoes – Running is a great sport in that the only real equipment you need are shoes. But the right shoes, and shoes in good shape, are really important. I highly suggest going to a running store to get your first pair of running shoes. The Runners Forum in Fishers is a great option. The store's trained associates will watch you run to see what type of shoes will be best for you. For example, someone who over pronates will most likely get injuries if they run in neutral shoes. They would need a shoe with some stability.
After you find the shoes that work best for you, they need to be replaced more often than you would think and it might be difficult at first to tell when to get a new pair. It's usually the cushioning and support built inside the shoe that breaks down first, something that you can't see. Some studies have suggested shoes last about 600 miles. However, other studies have contradicted that and stated running shoes have a much longer lifespan. What we do know for sure is that if your shoes are worn out, you will probably start to have some aches and pains that could progress into an injury. How long shoes will last varies by shoe and by individual based on your usage and body mechanics. It's best to go with how the shoes feel. Do they no longer feel comfortable? No longer supportive? It's time to get a new pair.
Other studies have shown that rotating between two different pairs of running shoes can be beneficial to preventing running related injuries. Changing your shoes, the type of terrain where you run and running at different paces are all good ways to prevent overuse injuries that may come with running.
Training Plan – Second to having the right shoes is having a training plan. It is really important to build up to 13.1 miles in a safe way to avoid injury. A training plan for a half marathon typically starts 10-12 weeks before the race date. Those plans assume that you've already built a weekly mileage base of at least 15-20 miles. Your longest run should be at least 5 miles. Someone who is brand new to running should start earlier than the 10-12 weeks prior to the race building a base (a number of miles run each week that increases no more than 10% each week). Look for a training plan for your fitness/running level and your schedule.
There are many apps that will provide training plans for any length of race, including for those who have never run before like the popular Couch to 5k app. Many of the apps will provide coaching to you while you are running which might be helpful.
Running books are also a great resource for information and training plans. I especially enjoyed Run Forever by Amby Burfoot. He has training plans in the book as well as on his website.
The 500 Festival Miler Series is the training series provided as part of the Mini-Marathon (for a separate fee). In 2021 this series is virtual instead of the in person races downtown, but it provides you with a timeframe to run a 3 mile run, a 6 mile run and a 10 mile run at the right dates prior to the May 8th Mini-Marathon. It is a great way to stay on track with your training plan.
Different Type of Runs – Your training plan should include the days of the week you run and for what number of miles, as well as the type of run you are to complete. Varying the type of run you do will help prevent injuries and help you improve as a runner. Generally, each week you will do a long run (your longest run of the week), an "easy" run (a shorter and slower run after your long run), a tempo run (a run with a warm up mile, a few miles just under your race pace and a cool down mile) along with a steady pace run for the designated number of miles.
Cross Training – Another important part of your training plan are cross training days. Resistance training, cycling, yoga and swimming are all great examples of things to do on your non-running days to help prevent injury and to help your running form and endurance.
Find a Training Group or Training Partner – Training in a group or pair can make a big difference in how successful you are with your training. When you know you'll be missed, you will be more likely to stick with your workouts. Also, having the encouragement and support of others going through the same training can be what pulls you through a tough run or get you out there to train when motivation wanes.
Stretch – Don't forget to stretch after your run! This is important all the time, but especially as you push your body with longer miles during your training. Search for a good post run stretch routine from a reputable source or ask a coach or trainer.
Do a 5k First – If you haven't run any races at all, it might be helpful to run a 5k prior to jumping into a half marathon. When I started running, I did not know anything about races. Before moving on to a half marathon, I ran the 5k (3.1 miles) that is part of the Mini-Marathon. It starts at the same place and runs through part of the mini course. It felt less intimidating to me to do a shorter run for my first race. It helped me determine what gear worked best for me and what to expect before and during a race. I ran the 5k and then the half marathon the following year.
Experiment to See What Works for You and Do The Same Thing on Race Day – This advice is applicable to races of any length. It takes some trial and error to determine what fuel before and during a run works best for your body. Once you find something that works, stick with it and do not try something new on the day of your race!
Have Fun – Above all, have fun and celebrate your achievements along the way. There are many, many moments during training where it will be challenging and not feel very fun. However, if you stick with your training and stay dedicated to your goal, you will get such a sense of accomplishment at the finish line. Running can be a metaphor for life in many ways. It teaches you that you can do hard things! Put in the work, while having fun along the way, will get you to your goal whether it is in running or in life.
This post is the second in my Beginner's Guide series – if you want to learn more about strength training, check out Strength Training for Beginners.
Topics: LivRite News, Workouts