Why You Should Try Water Aerobics
Posted by
Jill Derryberry
on Jul 1, 2021 3:06:30 PM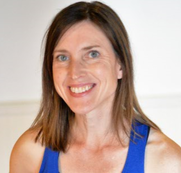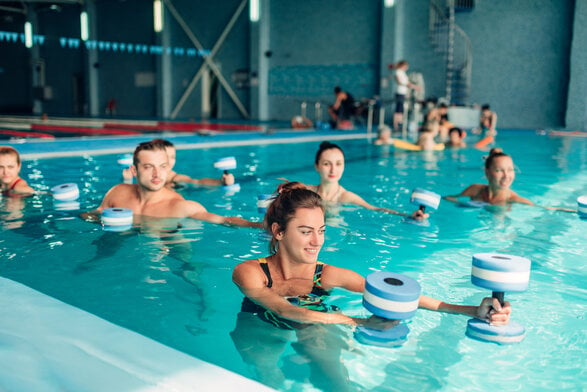 It's summer and it's hot outside. A great way to cool off and get a good workout at the same time is to add water! Any time of year, exercising in the water is a low-impact activity that takes the pressure off your bones, joints and muscles.
Water aerobics may make you initially think of senior citizens bobbing in a pool, but water workouts have changed and research shows that water aerobics, pool workouts and swimming benefit people of all ages and ability levels.
Water workouts, or aquatic exercise, can work your entire body.
Aerobic: Aquatic exercise can get your heart rate up which can provide a good workout for your cardiovascular system. For those with heart problems, it is helpful to exercise in the water because the heart rate doesn't increase as much as if the exercises were being performed on dry land.
Strength: Water offers natural resistance, which can help strengthen your muscles. The resistance of the water is about 12 times the level of air resistance. The harder you press during an exercise, the more resistance the water provides. You are using many muscles in your body to move in the water and they are all working against the resistance of the water, therefore, increasing your muscular strength. Some classes use equipment to further increase the resistance of the water which will intensify your workout and strength gains.
Flexibility: A lot of twisting, stretching, and joint movement is required to move through the water, against resistance. This increases flexibility.
Swimming is an extremely effective exercise. It uses your entire body – your abdominals, arms, legs, back and glutes all work to help you swim. It's also an aerobic activity as your heart rate will increase to move your body through the water. Make sure you have a safe place to swim. Pools are ideal. If you are swimming in lakes or oceans, be mindful of currents, water temperature and other obstacles. And it is never a good idea to swim alone.
Aquatic exercise isn't just swimming. There are many other ways to exercise in the water. In fact, you don't need to be a great swimmer to work out in the water. It's good to know how to swim for safety's sake, however, many water aerobics classes don't require swimming for a great workout.
The first organized form of water aerobics was demonstrated by fitness professional Jack LaLane on his television show in the 1950's. LaLane promoted a healthy diet and the benefits of aerobic exercise. He showed how water aerobics could be one way to get a good cardio workout. As the health and fitness industry became more popular in the 1970's and 1980's, the benefits of aquatic exercise became more widely known and it became an organized class at gyms and health clubs across the country.
The modern form of water aerobics, or aquatic exercise, is a fitness program that takes place in the pool. The class is designed to get your heart pumping for a cardiovascular workout without placing undue stress on your muscles and joints. It is often performed in waist or chest deep water and forces your body to move despite the resistance of the water. An instructor will lead the class through movements, usually with music. Sometimes resistive and buoyancy equipment is used to intensify the workout.
The types of water workout classes offered are expanding beyond traditional aerobics as well. Many of the exercises done in the traditional gym setting can also be done in the water, for example, lunges, squats, walking or running. HIIT (high intensity interval training) and boot camp style classes can be done in the water to increase intensity, but lessen the impact on your body. Popular dance classes like Zumba and barre classes now have versions available in the water in some locations.
Since working out in the water works your body while minimizing joint stress, it is an ideal workout for many including (but not limited to) those with arthritis, pregnant women, seniors, individuals who are overweight and those recovering from an injury or surgery.
Research shows that people with rheumatoid arthritis have greater improvement in joint tenderness and in knee range of movement with hydrotherapy than with other forms of exercise. Health benefits for aching joints are long-lasting, according to a study published in 2002 in the Scandinavian Journal of Rheumatology, which found fibromyalgia patients still had improvements in symptoms and physical and social function up to 24 months after a hydrotherapy program. Plus, warm water can have a immediate soothing effect on achy joints and muscles. On the flip side, if the weather is hot, swimming can keep you cool while you get in shape. You may even workout longer since you will be cooler in the water.
All of the benefits of exercise can also be obtained through aquatic exercise. A small study showed that participants in a 12-week water aerobics program (two 50-minute classes per week) saw a drop in their blood pressure as well as improvements in explosive strength and body composition. Another study concluded, "Like exercise on land, aquatic exercise should have a beneficial effect by lowering blood pressure." Research shows that aquatic exercise lowers blood sugar levels for people with type 2 diabetes.
One common misconception about water workouts are that they are relegated for only the elderly, injured or chronically ill. However, working out in the water actually forces your body to work out harder than if you were on dry land. It's a great workout for everyone!
Athletes were typically only encouraged to exercise in the pool when they needed to rehabilitate from an injury. However, while this continues to be a good recommendation, more collegiate and professional athletic coaches are seeing value in cross-training in water as a regular off and on season method. Some collegiate football teams, for example, use pool workouts as active recovery after a game. It isn't just for football players. Performing active recovery in a pool helps to reduce soreness, flushes out lactic acid and prevents a drop-off in performance. A 2010 study in the International Journal of Sports Medicine concluded a "swimming-based recovery session enhanced following day exercise performance." The hydrostatic pressure from the water increase circulation, reduces swelling and enhances recovery. Runners can supplement their training with underwater running. There are even underwater treadmills! Coaches have stated that running underwater is just as important as running outside. It helps runners become stronger by running against the resistance of the water, and it helps them to recover from on land training. Healthy athletes benefit from aquatic exercise in more ways as well, like reducing any potential overuse injuries and overcoming any training plateaus by adding a new way of exercise.
Another value of aquatic exercise is that according to research it leads to less muscle soreness and damage after the workout. When comparing high-intensity land and water based plyometrics programs it was found that training in water produced less inflammation and muscle soreness than the land based workout.
Being in the pool or open water is a fun and effective way to exercise for people of all ages and fitness levels and has many benefits. It's gentle on your joints and muscles but still can provide a total body workout. Plus, being in the water can feel relaxing even though you may be working hard. Adding water workouts to your fitness routine may be a good idea. Mixing up the type of your workouts will help to avoid injury and burnout. Also, if you are planning on increasing your current volume of exercise, the addition of one or a few water workouts is a safe way to do so without increasing your injury risk. New or returning to exercise after some time off? Water workouts are a great way to jump back in to physical activity.
LivRite Fitness has a variety of water aerobics classes in their pool. Find more information and links to the schedule for each location on the LivRite website or in the app. The pool is also available for swimming whenever a class is not in session.
Topics: LivRite News