Sweet Potato White Chicken Chili
Posted by
Christine Murzyn
on Nov 16, 2019 3:16:39 PM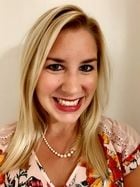 Sweet Potato White Chicken Chili
Nutrition
Serving: 1bowl (no garnish) | Calories: 310 kcal | Carbohydrates: 30 g | Protein: 34 g | Sodium: 430 mg
Things I love about this recipe:
Very Filling (all that fiber from those beans and sweet potatoes!)
Extremely nutritious
Even more flavorful
Super simple, low skill-level
Short prep time
Small number of ingredients, budget-friendly
One-pot meal
Family seal of approval
Prep Time: 15 minutes
Cook Time: 6 hours
Servings: ~10 people
Calories: 310 kcal
First, dig out your Crock-Pot. (If you don't have one, get out a large stock pot.) After that, it's pretty much dump the ingredients and go!
Ingredients
3-4 boneless, skinless chicken breasts
3-4 diced tomatillos (or 16 oz tomatillo salsa)
1 lg. sweet potato, peeled and cut into 1 inch cubes
1- 32 oz. container low sodium chicken broth
1- 4 oz. can diced green chiles
1 small onion, chopped
1- 1.25 oz. package of white chicken chili seasoning mix
2- 16 oz. cans pinto beans, drained and rinsed
2- 15.5 oz. cans navy beans, drained and rinsed
2 tsp. Garlic powder
1 tsp. cumin
salt and pepper, to taste
Garnish suggestions: cilantro, avocado, low-fat Mexican cheese, plain Greek yogurt, finely chopped onion, green onions.
Instructions
Add chicken breasts to bottom of your slow cooker and top with the diced tomatillos (or salsa). Then add in all of the remaining ingredients (except garnish ideas) and gently stir.
Cover and cook on LOW for 6 hours or on HIGH for 4 hours.
Remove the chicken and transfer to large mixing bowl, shred, then return to slow cooker. (Or you can shred in your slow cooker; it should be tender enough that it just falls apart when you stir!).
Stir and add pepper to taste if desired. Serve in a bowl, add optional garnishes, and enjoy!
Notes:
Feel free to add more veggies as desired. Pro-tip: Mushrooms make an awesome addition!
If you're vegetarian, make using vegetable broth and tofu
Can't find white chili seasoning mix? Try this: Mix together 2 tsp. cumin, ½ tsp. paprika, ½ tsp. chili powder, ½ tsp. oregano, ½ tsp. coriander, ½ tsp. cayenne, salt and pepper to taste.
Enjoy!
(Recipe adapted from: https://krollskorner.com/recipes/slow-cooker-green-and-white-chicken-chili/ )
Topics: Healthy Recipes